Open Deck, Off Road Vehicle & Equipment Transport Trailers.
When agility, strength, reliability and performance is paramount. Over all types of terrain, in all types of weather.

Land Force Defence can supply a wide range of customizable Off Road Military Transport Trailers. Our trailers are manufactured to be some of the most durable and versatile trailer platforms on the market. With deck sizes ranging from a 3m load space up to a massive 5.5m load space. We can configure these trailers to carry almost anything to wherever you need to take them. Being conscious of the restricted maneuvering area on off road tracks. We have carefully thought out the chassis design, dimensions and over all ground clearance. Allow you to venture out into areas that conventional transport trailers simply can't access.
Incorporating Land Force Defence & Mobility's revolutionary new modular off road trailer chassis and independent off road suspension assembly. The range of open deck Off Road Trailers have been designed to negotiate the toughest of off-road conditions while also meeting stringent weight and size restrictions. Allowing us to maximize compatibility, with air transportability.
By keeping the trailer dimensions within the width of most tow vehicles we have also been able to increase the maneuverability off road through tight areas. Along narrow tree lined outback tracks, or along tight, twisting mountain roads.
Keeping the Off Road Trailer dimensions in line with the tow vehicle also improves vehicle handling and fuel efficiency. By reducing the amount of wind and drag that you are likely to encounter during higher speed on road travel.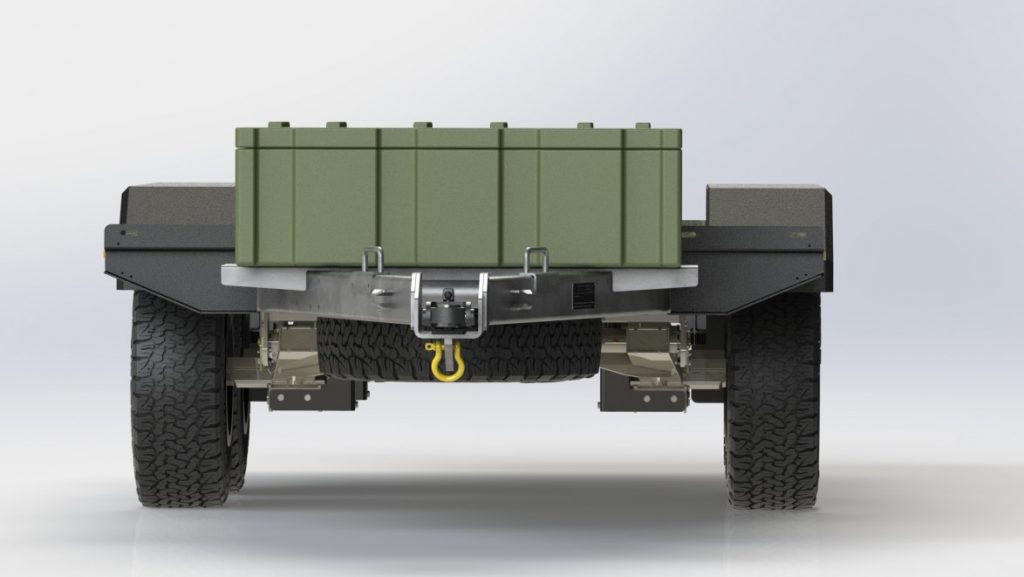 SUSPENSION
The tandem axle, coil spring independent suspension design also gives you the added benefits of four wheel flotation and greater suspension articulation. With twice the braking power and added stability off road. While the sharp angle draw bar configuration also gives you an advantage over many other A Frame trailer designs. By allowing you to maneuver the trailer into an over 80* jack knife position behind the tow vehicle. Giving you a much tighter turning circle and reversing capability off road.


Our Open Deck Transport Trailer suspension is built for a lifetime of Heavy Duty Off Road use with ability to incorporate interchangeable key suspension components allowing the trailer to be upgraded as your needs change. The base model is fitted standard with a coil spring/drum brake configuration with the option of upgrading to air bag and disc brakes variants at any time in the suspensions life cycle.
Incorporating our heavy duty suspension means that you are less likely to run into problems out in the field. A sturdy 63mm stub axle, extra-large 3.3T VC bearing combination, premium monotube dampers and lockable toe and camber adjusters means you can spend more time operating in remote areas and less time dealing with overheated components and maintenance problems. Both front and rear suspension assemblies have been mounted to modular frames independent to each other. Allowing for full or partial suspension assembly replacement in the field.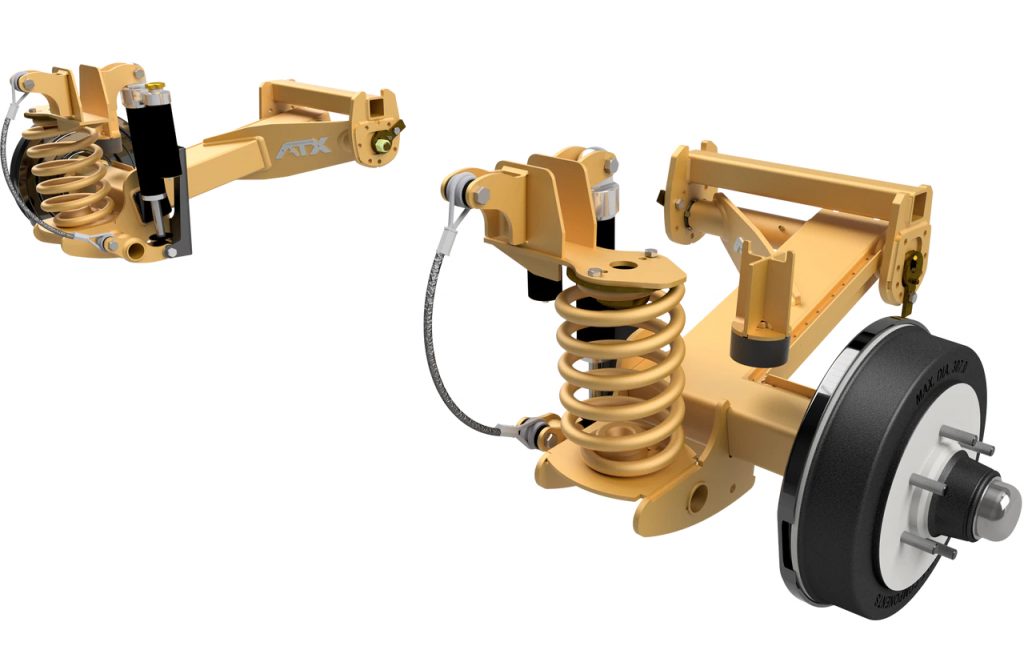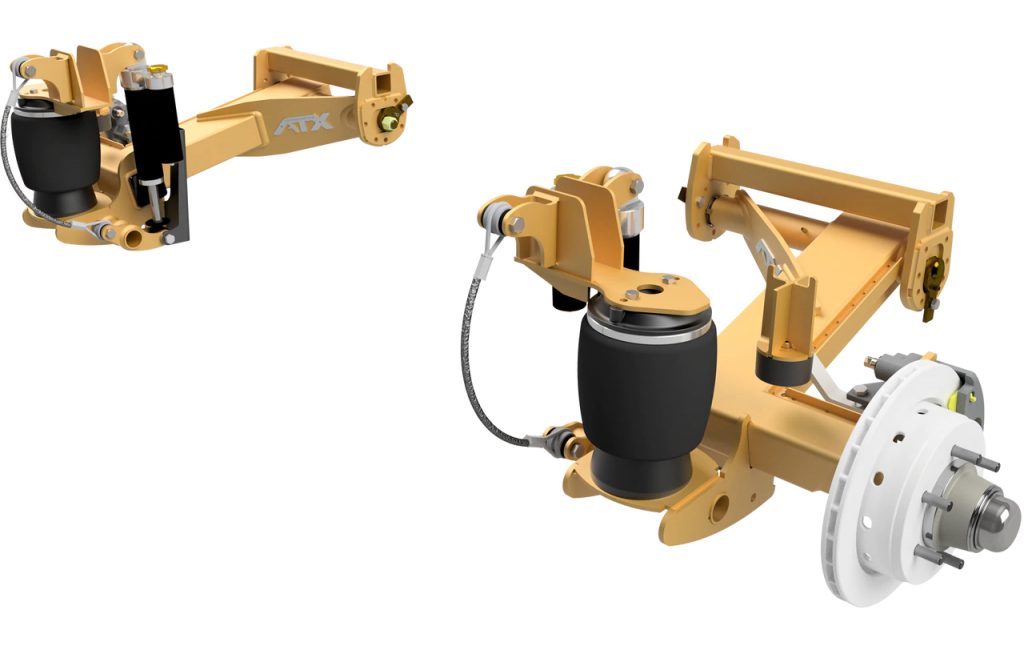 TRAILER SIZE :
Overall Vehicle Tray Length 3.0m to 5.9m Long x 2m Wide.
Tray height 750mm.
TARE: 1300 kg. to 1500kg.
ATM: 3,700Kgs to 4,500Kgs Depending on coil spring rates.
Ball Weight: 165 kg.
Internal Air Transport and Sling Load Capable.
MAIN CHASSIS & UNDER BODY
Cruise Master DO35 or 45 Plus Off Road Trailer Hitch.
Full length 125 x70 x 4mm Steel Chassis.
1.8 mtr frontal draw bar length.
Twin rear heavy duty recovery points.
Trailer hand brake cables.
Front hand brake lever bash plate.
Front D Shackle recovery point.
Under body spare tyre mount.
Manutec, pin locking, swivel bracket and heavy duty side wind jack stand.
2 Front tie down and air lift points.
PAINT COLOUR OPTIONS
Desert Tan Satin.
Olive Drab Matt.
TRAY CONSTRUCTION
2 – 150 x 50 x 5mm C Section Aluminium Sub frame chassis rails.
50 x 25 x 3mm RHS Decking cross members at 300mm Centers.
The decking side rails are made from 3mm Zinc Plated Steel or Aluminium with tie down points incorporated into the side rail design.
Decking plate is made from 4mm Aluminium checker plate.
Decking plates are also attached with 6.5mm structural rivets.
TRAILER RUNNING GEAR
2 ATX 1,850 kg or 2,250 kg Independent Coil Spring Suspension units.
4 – 12 inch electric drum breaks.
Optional 4 Hydraulic Ventilated Disc Brakes and Hydra Star Pump.
4 – Heavy duty large boar off road shock absorbers.
125 x 50 x 6mm Hot dipped galvanised C section trailer chassis.
Twin modular, removable suspension assemblies.
MAIN CHASSIS REAR
2 Water proof resin filled LED trailer lamps.
Optional rear winch mounting point.
Optional under tray vehicle ramp storage.
Bolt on mud flap assembly.
Twin under body Recovery Points.
Rear chassis cross bar.
2 Rear tie down and air lift points.
WHEELS & TYRES
5 – 285 / 7 5 / R 16 or 17. All terrain tyres.
5 – 16 x 8 " 6 stud steel rims.
OPTIONAL ACCESSORIES
187 Ltr Top Opening Tool Box.
187 Ltr Side Opening Tool Box.
Recessed Decking Tie Down Points.
12 – Aluminium anchor track tie down rails.
Axe Shovel & Mattock mounting frame.
2.6m Aluminium Vechicle Loading Ramps 2,500kg.
Internal tool box Battery tray. (Top Opening Tool Box.)
120 Ah Deep Cycle Battery. (Top Opening Tool Box.)
125 Ah Lithium Battery. (Top Opening Tool Box.)
Red Arc Battery Charger. (Top Opening Tool Box.)
ARB twin air compressor. (Top Opening Tool Box.)
Optional Tray top Front Winch Mount.
Optional Smittybilt Gen 2 X20 10 Electric Winch 10,000 lbs 4,535 kgs.
Tyre inflation and deflation system. (Top Opening Tool Box.)
If you would like to know more about any of our products or services.
You can request more information via the inquiry form on our contact page via the link below.